Saturday, December 22nd, 2007
---
1:05 pm
- wacko
Websites like "lolcats" freak me out because a lot of those cats make faces that are sad/scaredy faces. People put their pets in uncomfortable situations just to post on a stupid website and thats sucks, i think.
Wednesday, December 19th, 2007
---
11:22 am
- i am awesome.
ART 4405 001 A 3.00
ART 4410 001 A 3.00
ART 4441 001 A 3.00
ENGL 2593 001 A 3.00
FREN 1002 001 B 4.00

YAY!
Tuesday, October 2nd, 2007
---
11:10 pm
- for the Smails
Saturday, September 29th, 2007
---
3:37 pm
- i feel sick
and tired.

so so so tired.
Wednesday, August 15th, 2007
---
8:30 am
- dont ever buy a cockatoo
Thursday, July 12th, 2007
---
12:52 am
Thursday, May 17th, 2007
---
11:07 pm
Louisville seems so much more awesome when you aren't in it.

current mood:
bored
Saturday, May 5th, 2007
---
2:11 pm



Happy Derby Day, my babies.
Friday, March 2nd, 2007
---
9:58 am
- two of my favorites
Live, from New York, it's Peyton Manning!
Colts QB to host Saturday Night Live on March 24, his 31st birthday

Updated: 12:01 a.m. CT March 2, 2007
INDIANAPOLIS - Super Bowl MVP Peyton Manning's acting credits will move beyond his numerous commercials in a few weeks as he'll be hosting NBC's Saturday Night Live.

The Colts quarterback said he would appear on the show on March 24, which happens to be his 31st birthday.

"I figure this is my one shot to be asked," Manning said. "I'm sort of looking forward to it, but I am a little bit nervous."

Thursday, February 8th, 2007
---
10:38 am
- I was so crazy.
Recently I have been staying up late and thinking about my past. There is a lot of it I have made myself forget because I was so young and really stupid. I spent all of last night trying to figure out what in the world I was doing with my life between spring of 2001 and spring of 2003. After much investigative research done at www.livejournal.com/users/kawandee, I have come to the conclusion that I was, in fact, possessed by the devil.


To whomever did the exorcism, thank you-thank you.



Wednesday, February 7th, 2007
---
8:58 am
- Feb-ooo-weary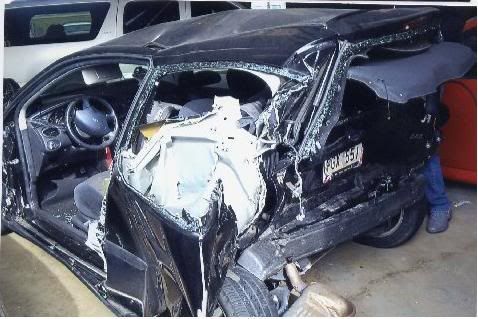 I've been meaning to update for awhile now. I just never take a break and do it. Things are still moving so quickly. Sheesh. Slow down 2007.

I finally got my police report in late January. The report read that a 40-something white male ran into my car with his F150. Which I sort of already knew. Due to the impact, and because my foot was on the break, my car skidded about sixty feet-which sounds like a lot-but really it wasn't. Then I lay in my car unconscious for 20 minutes until the fire department came and cut my door off and put me in an ambulance. When the police arrived on the scene the guy that hit me stumbled out of his car yelling "IM SOBER!"-which is something I think about and laugh at on a daily basis. He smelled like booze and was arrested. The icing on the cake is that he was wearing a gun-in a holster-like a rhinestone cowboy.

So I am currently involved in physical therapy 3 times a week. It really is amazing how much just basic movement can heal your body. They also hook me up to these electro-heat-thingies and that feels pretty good too.

There is no new news really. I have been having really intense dreams about people from my past. I think I am pulling up memories of people that make me feel comforted because of all the trauma-drama-rama. It is nice but I wake up with some heart ache because I want to be close to those people, but I hardly even know them anymore.

I am eager to go on another vacation. Every time we try to leave Baton Rouge, even if it is just for a day, something happens with the weather-or you know-I almost die-etc etc. Honestly if we don't go to ATL soon, I'm going to be so bummed. I need to see pandas and whale sharks dammit. But Jon is in school. I hate it. He has so much work to do and I have...nothing to do.
Saturday, January 13th, 2007
---
1:59 am
I am moving into the angry phase of recovery. Late this evening I gathered all my flowers in the kitchen and started weeding out the dead ones. Most of the flowers are gone now. I stood there over my stink, looking at the dead leaves and smelling the moldy water. I felt as lifeless as the dead tulips that wilted when i touched them. How did they die so fast? January 12th? What the fuck? The first two weeks of a New Year sucked away from me. My legs are still almost numb. I wish my neck and back were numb. I can't do anything without aching. Still no energy. Still taking 4 hour naps in the middle of the day.

Today I got my staples out. Unfortunately there is still a 12 inch cut on the back of my head-all scabby and disgusting. So gross.

Baton Rouge takes 10 business days to process accident reports. SO considering I have no recollection of the accident I still won't know what really happened until next week. Also, everyday my collision center cost goes up another 20 bucks. Wow BR, wow.

I guess what pisses me off the most about this is that there is no way I could have gone to school this semester. So, thank you mr. drunk driver for putting my future off another 4 months. The girl across the street bought her books today. I watched her carry her bookstore bag-filled to the brim-into her house. I was so jealous. I love new books.

It doesnt matter though, considering LSU decided that I am not what I call "residency worthy." Maybe they found out how effing much I hate this place.
Wednesday, December 27th, 2006
---
11:35 am
What is this place that I am in? This place that feels so familiar? I could live it with my eyes closed now. It is like a sluggish dream where timely events occur-clocks, cats, bills, books, computers and then more clocks. I peel this orange that my grandmother gave me. I tucked it away in my backpack but forgot to eat it on the plane. I inhale it. The smell is all I have left of Christmas morning and my sister's smile. I can't figure out where I belong. What is love and what is family? What is loneliness and what is success? Where will I be in 3 years and where will they be? Who will love me then and who loves me now?

My father's tears are hard to wash off. His hands were pressed against the back of my coat when kept repeating..."I pray for you I pray for you" All I could do was leave him red eyed and flushed. I feel like I have left them all broken hearted and myself broken too. The guilt and sadness was impossible to shake last night as I lay alone in the dark. I skimmed through photos on my camera of soft hair and twinkling lights. Such beauty that no one here will ever see or realize or grasp or understand or reach. How did I ever take it all for granted? Home. Louisville. Home.

current mood: homesick
Tuesday, December 12th, 2006
---
11:12 am
- the hunt for white christmas
So today Miss "My Parents Pay for Everything" that I mentioned in this post:

http://kawandee.livejournal.com/291276.html

had a total mental melt down during our Anthropology Final. There was sincere amounts of dry heaving coupled with sobbing which led a room of about 150 students to just stare in disbelief.

Looks like Mommy and Daddy are going to be paying for some trips to therapy.


wowwy wow wow wow.

\
Friday, December 8th, 2006
---
9:14 am
- why are you so funny marriedtothesea.com??????
Thursday, December 7th, 2006
---
11:37 am
My busy schedule is causing me to miss out on time that could be spent with Jon. I hate it. I hope we get some quality time this weekend.
Thursday, November 30th, 2006
---
7:15 pm
11:57 am
- Oh to be young and funny again
Thursday, November 23rd, 2006
---
4:55 pm


HAPPY TURKEY DAY. We have been cooking all day and are about to eat. I'll let you know how that goes (after I pass our then wake up again).
Tuesday, November 21st, 2006
---
2:57 pm
- barf



I've watched the Michael Richards video a half-dozen times today. I can't explain the way it makes me feel. It is very strange when someone who has made you laugh over and over again does something that makes you sick to your stomach.
I don't think Michael Richards is racist. I was talking to my office mate Jessica (who happens to be black) about his tirade today about how white people are easily intimidated by blacks. When a white person feels backed into a corner by a black person (b/c of an argument or heckling etc) they immediately pull out the "nigger" trump card. Nothing tops that. White people know how hard that hits and they tend to utilize it to "one-up" themselves in an argument or to get out of a situation where they feel inferior. I don't agree with it. But that doesn't mean that person hates all blacks, it means they are just sorta hateful and politically incorrect in general.

Richards' attempted apology last night showed him in a completely different light to me. He looked so scary and couldn't speak in complete sentences. I feel bad for him. I have been taken over by that raging anger before and said some pretty horrible things to people that I didn't mean at all. I doubt he will ever fully recover from this.

sad sad sad